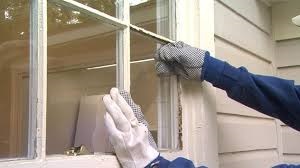 Pit Pro Handyman 724-544-8544
Replacing a broken window pane in a home in Pittsburgh Pennsylvania can be a simple or quite complex task depending upon the age of the window, the number of panes, the insulating factor and historic regulations.
In some cases of modern windows that have double or triple pane glass that is sealed and contains a special insulating gas between the panes the repair will need to be done by the company that manufactures the window. The manufacturer, window size and other information is typically found on a sticker that is attached to the window frame. Those windows are not repairable in the field and are manufactured by the window supplier and then we can perform the installation if the window is not under warranty. For most cases of a break due to vandalism act of nature or some other violent occurrence the warranty will not cover the window repair under warranty. We can secure your residence in a temporary manner so that the weather is kept out and the window is not a danger. This is typically done with tape and cardboard so that as much of the window that is still in the window is sandwiched between cardboard and the cardboard acts to protect from the weather. This might be the best option as your window manufacturer may not want you to disturb any damage if a warranty may come into effect. Call us at 724-544-8544 for assistance with your window repair needs..
A simple single pane window repair is the least difficult repair as the window is typically a wood window with a single pane of glass that is secured with muntins or grilles that are nailed to secure the glass pane in place.
Pittsburgh PA handyman service can replace a broken window pane on an historic home to comply with historic district regulations or the architectural style of the home. This may be a quick two hour task or it can be a task that requires us to secure the break in a temporary fashion and then order parts and repair when parts are delivered. In most cases on historic homes we can get a quick repair completed as these panes are independent of each other and allow us to work with the single pane and wood grilles that retain the panes.
If your broken window is a curved pane on a historic home it may require special bending of wood if the grill is damaged. This sometimes occurs when rot or decay damages the structure of the window and it falls to the ground. This is rare yet does happen and the repair can be accomplished, it may just take additional time.
Un-sticking windows that are painted closed in Pittsburgh Pennsylvania is another window repair task that we are skilled at resolving. On older homes that may have lead based paint this job requires intense clean up to insure that there are no paint chips left behind and to collect them so that they can be disposed of properly. In addition to the chips we must control any dust that is created and may do so by draping and use of a portable vacuum to collect and clean up any window dust. The job of unsticking the painted closed window we will use a putty knife, utility knife, hammer or rubber mallet and plenty of patience. When we complete the process you will have a window that is operable and we can even lubricate it with a bar of soap to make it easier to operate.
Each window repair service performed by Pit Pro Handyman is unique and offers its own challenges. If you have photos of the damage to send to our email (pitprohandyman@gmail.com) or submit on our contact page this will help us understand the repair need when you call.
Finding a professional handyman to fix a broken window in Pittsburgh can be a daunting task as many handymen do not want to perform such tasks and would rather pass on the work and wait for a bigger fish to swim along. At Pit Pro Handyman no job is too small for our services and we hope to become your handyman professional for all of your current and future home repair needs and office repair needs.