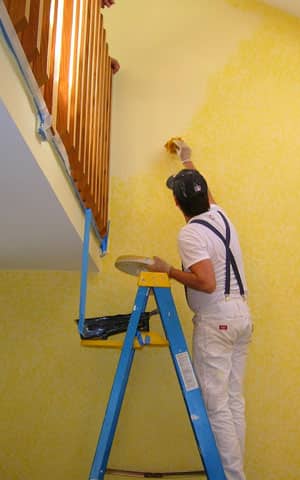 Pit Pro Handyman 724-544-8544
When in Pittsburgh we tend to use our city's name sake paint, PGT's Pittsburgh Paints. As there are Pittsburgh Paint stores everywhere and the paint is reliable and warranted whey not use our city's namesake paint. PPG Paints is Pittsburgh's hometown paint store! It is our experience that each and every location offers exceptional service and expert color consultations. Along with paints you will find quality products and painting supplies. As house painters in Pittsburgh we are proud to source our preferred paint from local PPG paint stores.
We are able to honor any client's paint request yet our go to paint for quality, coverage and price along with local pride is PPG coatings Pittsburgh Paints. By the way, did you know that PPG is the largest coatings company in the world and Pittsburgh Paints are available in over 70 Countries?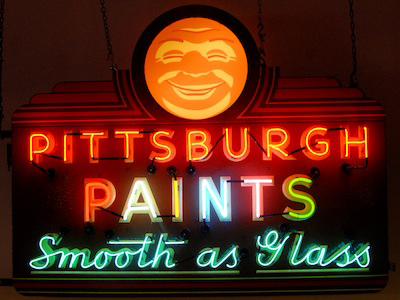 Our Pittsburgh Pennsylvania handyman services include interior wall, ceiling, trim, doors, floors and any other interior painting need. Our interior painting services include but are not limited to the following services:
Wall cleaning and preparation for painting is an important first step in the entire process. At Pit Pro Handyman we clean all surfaces to be painted prior to applying any paint. These walls are allowed to dry prior to applying any paint. This cleaning and drying process are part of what may extend a painting of a room to three or four days at times.
Ceiling crack repair and sealing is performed next to repair any damage to the plaster or drywall prior to painting. As houses will settle there may be cracks in the drywall and plaster that need to be addressed. We will use spackle, caulk or other fillers to fill in these cracks and let this filler dry. Once the filler is dry we will lightly sand this area to a smooth surface so that it can be painted.
Wall hole repair or drywall repair will be performed if needed to repair any damage that may have occurred by movers or other accidental event. These holes may be repaired by various methods depending upon the size of the hole, the severity of the damage and the material it is made of. For larger holes in drywall we may cut out the section in the form of a square and install bracer boards behind the new hole and nail in a new piece of drywall. We will tape the hole with drywall joint compound and smooth the surface. Once this compound is dry we will sand the area smooth so that the repair will be least visible once painted.
Draping and protection of flooring and furniture will be performed to prevent paint from dropping onto your floors and furnishing. This process can be time consuming if the client has many décor items and has not prepared for the painting process. In most cases the clients will box up, package, move, and store or otherwise prepare for this painting process leaving us to simply drape a sideboard or chest or dresser. This speeds the process and alleviates risk of damage to the client's décor items. Once the draping and protection process is completed the painting may begin.
Ceiling Painting is performed prior to wall painting to alleviate any concern of drips onto the painted walls. This is typically performed with a roller for the broad expanse of the ceiling and with a cut in brush for the edging where the walls meet the ceiling. A bright new coat of white paint on a ceiling will help a newly painted room shine. If a ceiling is not refreshed and walls are the results are considerably less spectacular. Similarly if a ceiling has a leak or other damages it is imperative to paint the entire ceiling to prevent the repair area from becoming a sore thumb. We may all think back in our minds to being in a room where only the repair areas was painted and recall how obnoxious and unprofessional that repair looks.
Wall Painting will be smooth and faultless with the proper preparation as described above. It takes some preparation time to get to breaking that can of paint open and applying it yet that time is valuable and is the key to a professional finish.
Please contact your Pittsburgh Pennsylvania Professional handyman at 724-544-8544 to discuss your interior painting needs.