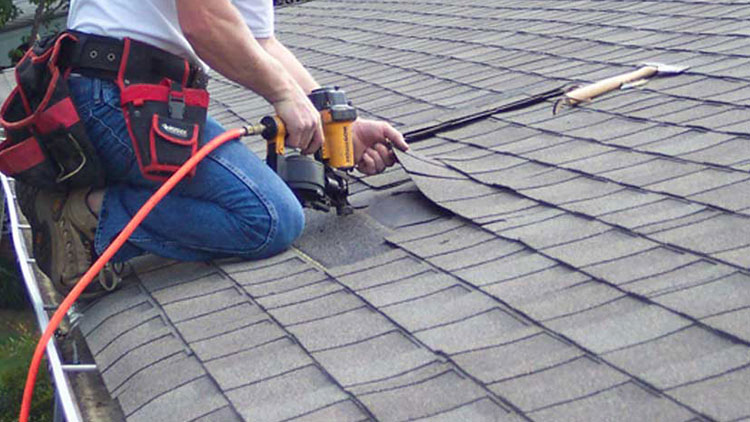 Pit Pro Handyman 724-544-8544
Let Pit Pro Handyman service be your Pittsburgh PA roof repair and maintenance service of choice. Our handymen are extremely skilled in roofing repairs and installations. As handymen we tend to be a jack of all trades type of service and can provide the repairs to your roof shingles, metal or membrane as well as repair and replace any water damaged wood, rotten wood or other repairs that result from an aged roof or from the forces of nature.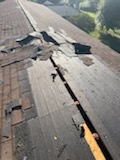 Pittsburgh PA housing has many different types of roofs. Some of these are asphalt shingle, seamed metal, metal tile, clay tile, membrane, torch down, wood shake, slate tile and concrete tile. The most common type of roof is asphalt shingle which tends to be the most affordable "now" roof yet only has a life span of ten to twenty years depending upon the shingle that you select. Many modern day shingles can give the look of a layered shake roof yet provide a low maintenance foor for about twenty years. This type of asphalt shingle is known as an architectural shingle and is thicker than the standard tab asphalt roof.
The three tab shingle is ususlly 36 inches long with each tab being 12 inches. These are applied on top of a waterproof memberane such as aasphalt coated tar paper which is nailed in place with specialized nails or a peal and stick type of underlayment that has a sticker coating on the back which is pealed and stuck in place like a large strip of tape. The asphalt shingles are applied on top of this underlayment with the roofing nail heads concealed and then the sun will heat the tabs up and the asphalt on the bottom of them will cause them to stick together to form a large waterproof roofing finish that is attractive and will resist water intrusion and wind uplift. The entire roof installation becomes one large water tight membrane.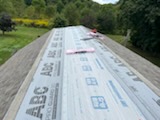 Shall your roof develop a leak we can use your description of the problem, any water marks, a water hose, instinct and investigation to locate the leak and repair it. In some instances a leak will stick out upon investigation of the roof. This might be an instance of a tree limb that has penetrated the roof, a damaged pipe or flashing area, or other obvious visual damage. In many or most cases a leak can be elusive and take hours to track down and seal up. This investigation, trial and error process is frustrating at times yet we always eventually find the leak.
In cases of a roof that is way over its prime we might suggest considering a re-roof instead of a repair. We are not trying to up sell you when a repair can be accomplished, we leave that to others in the industry. We are simply offeirng that your roof is over its anticipated life span and walking on it might cause further damage as many years of sun, snow, ice and wind have caused the roof to deteriorate to a point where it will be a continual chase for leaks to repair. We will take photos while on the ladders or the roof to show you the condition of the roof so that it can help you determine what to do. If the damage is obviously from a storm you may use those photos to file an insurance claim, that is your decision. Keep in mind, an insurance claim roof is not a roof that is damaged by neglect. Any insurance examiner will be able to see any attempts at shady business. Yet in the same consideration, a storm damaged roof is a storm damaged roof.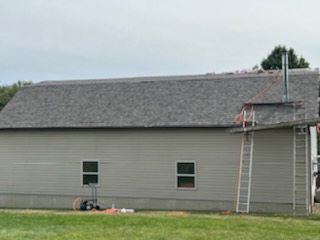 Seamed metal roofs are trending to be more popular in recent years. These roofs can be fabricated as concealed fastener roofs or exposed fasteners. The life of these foofs is typiclaly minimum 40 years yet some old school metal roofs have been in place for more than 100 years and are still holding strong. It is important to follow manufacturer instructions as to how to clean a metal roof. These become very slippery when wet and must use a mild soap if any to clean so that the protective finish is not damaged.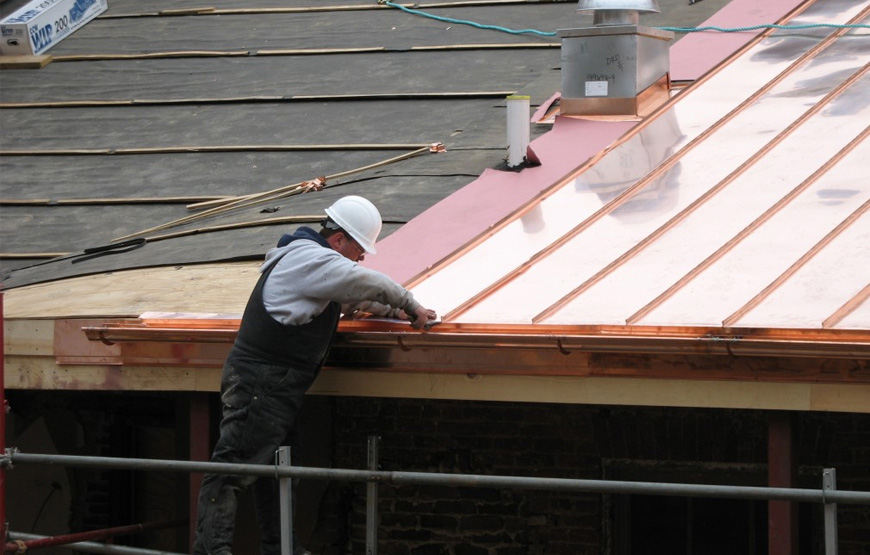 For all roofing repair and installation needs in the greater Pittsburgh area please call your Pit Pro Handyman at 724-544-8544.
Be sure to inquire with your local building authority to see if your roofing repair or roofing installation need requires a building permit.