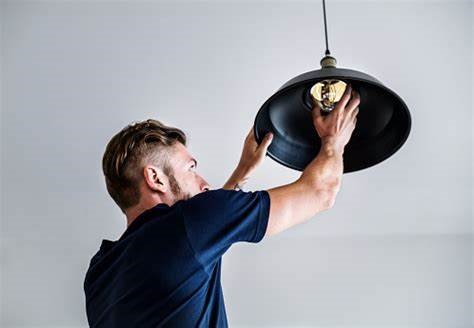 Pit Pro Handyman 724-544-8544
As part of our efforts to assist the elderly and handy-capable in managing their homes and home life we offer light bulb changing services.
These services can be purchased as part of a monthly handyman visit in which multiple services will be performed at one visit. These include change out expired light bulbs, clean dryer vent line, change furnace and or a/c filter, clean dishwasher filter, clean clothes washer filter, clean shower/but drain line,
You may have light bulbs that you wish to use, we suggest LED bulbs as they save consume less energy and have a longer life to the bulbs. They also do not produce the amounts of heat that traditional incandescent bulbs produce so you will save on your air conditining / air cooling bills in the hot summer months.
We will also dust your light fixtures while we are changing the light bulbs. In some instances we may be nesitant to dust your fixtures such as vintage cloth lamp shades, extremely fragile glass, high end light fixtures and any that look like damage may occur while dusting. In all instances we are not liable for any damage that may occur to your light fixture when cleaning or changing bulbs. This is a must to incude as there are way too many different types of light fixtures. No, we have never broke anyones light fixture yet we must include this in case it does happen at some time, we hope you understand and apprecaite the necessity.
Maybe you have grown tired of your light fixtures or are changing the style of your interior decor and this includes new light fixtures. We can chagne new light fixtures and switch out chandeliers or ceiling fans. These are typically considered handyman tasks and do not require the license of an electrician. Shall you desire to add a light fixture in a new location on your ceiling or some sconces to your walls or decorative down lights to light up your art work or paintings we can bring a licensed electrician to install the wiring and boxes and then we will install the light fixtures.
You may wish to order your light bulbs, lights or other needs from Amazon.com as they offer a wide variety of bulbs, fixtures and their reviews of each product help to insure that you receive a bulb that will provide the right levels of light that you desire and will last for an expected amount of time before needing replaced again.
You may ask "why do you offer a light bulb changing service?". There are many mobility limited, handycapped and elderly residents in the PIttsburgh Pennsylvania area that do not have the abilities to climb a ladder. There are also those that are afraid of heights, do not have a ladder or do not have the time or patience to change light bulbs and clean light fixtures. In many cases not everyone is capable of climbing a ladder. The change of falling from a ladder or a stool is not worth the risk and the possibilithy of ending up in a hospital due to a fall.
Our handymen are young and have the ability to climb a ladder and do not fear heights. They are in perfect shape to climb a ladder and handle the task of changing light bulbs and cleaning light fixtures. They are in their working prime of their lives and enjoy providing handyman services to those who cannot perform them for themselves or do not have the time to perform them.
By hiring Pit Pro Handyman to change your light bulbs you are making an investment in your health, safety and welfare and are not putting yourself at risk.
Please be sure to call Justin at PIt Pro Handyman to schedule your light bulb change our or any other lighting need at 724-544-8544 or email PitProHandyman@Gmail.com