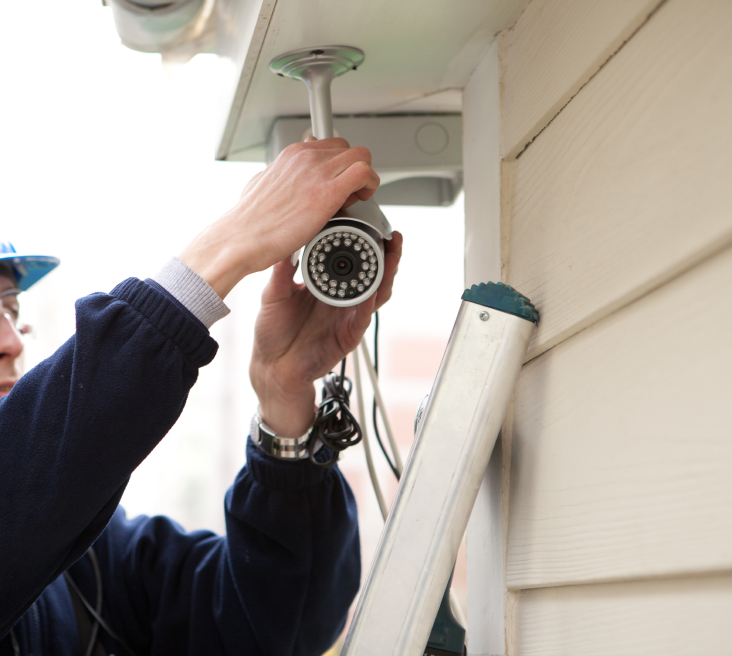 Pit Pro Handyman 724-544-8544
At Pitt Pro Handyman we offer home security camera installation services. As many homeowners are purchasing their own security systems on Amazon or at big box stores, home improvement stores or electronic stores this security camera installation services has become quite popular in recent years. There are many levels of home security systems ranging from a simple doorbell camera, a peep-hole camera to full home systems that offer indoor and outdoor cameras with alarms and night vision technology. At Pit Pro Handyman we do not supply camera systems yet we install systems that have been purchased by our clients.
You may choose to have a wired system or a wireless system, we can install either one. If you do select a wireless system be sure that you have a Wi-Fi network to connect it to. Wi-Fi networks are common in homes yet some clients that are not so technologically connected may not have a network. Be sure to order a Wi-Fi router if you purchase a wireless system and do not have a Wi-Fi network presently. We can install your Wi-Fi network for you as well as your security system. We are here to service our clients and understand that you may not be technologically friendly and that is okay. We can set your network up for you so that you can feel free to purchase the wireless system with a Wi-Fi router and we will be able set up the router and install the wireless security camera system.
Please keep in mind that these type of systems typically will report any motion to your mobile phone and send you videos of the motion. These videos can be saved to archives, saved to your mobile device, sent to your local Pittsburgh PA police or any city police agency or county sheriff that serves your Pennsylvania County or they can be deleted. These types of systems are not monitored by an off-site support desk and the only monitoring is yourself and those that you supply access to.
These cameras can be purchased at Amazon.com, Home Depot, Lowe's or Best Buy. We will install that camera that you provide to us based upon the installation instructions that come with the cameras. As each camera system is different we will need to read the directions that come with your camera while we are installing it. This is a must as each system has strict order of installation so that the camera boots up properly.
Please contact your Pittsburgh Pennsylvania Professional handyman at 724-544-8544 to discuss installation of your new home security camera system.