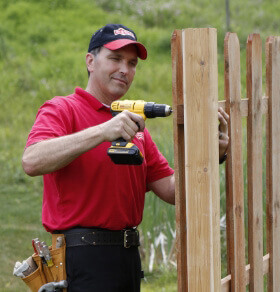 Pit Pro Handyman 724-544-8544
Pittsburgh PA fence installation services include …
Fencing is a critical component to your home for privacy, safety, enclosure or other reasons. Your decision to fence your entire property or a portion of is a personl reason and should be considered a sound investment in peac of mind as well as your property.
Your first step in your fencing project should be to contact your local city or county permitting agency to determine if a permit is needed. We do not pull permits for our clients and it is their responsibility to make the calls to the permitting authority and secure a permit or get approval that no permit is needed. This process is called pulling an owner build fence permit and most times takes a simple phone call. The authority may request a copy of your survey. In most cases
At Pit Pro Handyman we realize that fencing is a critical component to your home, not only is it a practical way to keep your children and pets safe, but it can also clearly mark your property lines and increase your home's overall value. If you're looking for fence builders near you or if you just need to have your current fence replaced, PITT PRO HANDYMAN LLC is the expert to call.
We can replace or install many types of fencing, some of these fence types include but are not limited to:
Wood Fence
Vinyl Fence
PVC Fence
Wrought Iron Fence
Aluminum Fence
Whether you are looking for a custom-built fence, you need one installed that you bought from a store or you need to replace an old fence we can handle your greater Pittsburgh fencing installation needs.
Please keep in mind that every fence job is unique, every property line is different, slopes and hills and valleys make fencing more time consuming for our Pittsburgh handymen to install than on a flat or level property. Some properties may have a harder soil to excavate and some may be embedding fencing into rocky soils or even solid rock in some cases.
All of these unique site conditions will play a part in pricing the installation of your new fence. There is not standard formula for pricing the installation of a fence in the greater Pittsburgh area as each site is unique.
At Pit Pro Handyman we price the project and not the client. We make sure every client feels that they have received value and quality workmanship in their project. We stive for all five star reviews.