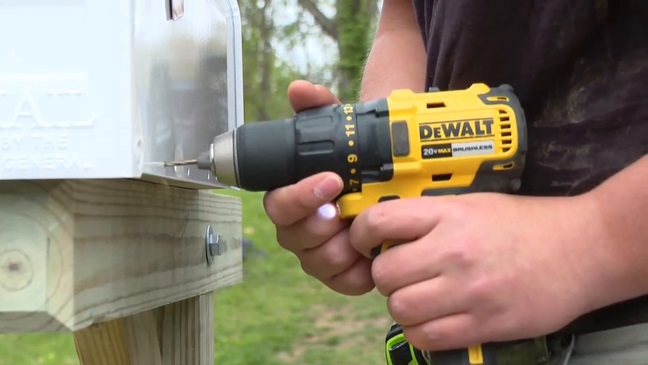 Pit Pro Handyman 724-544-8544
Pittsburgh PA mailbox services include installation of wall mounted or post mounted mailboxes including construciton of specialized mail box pedestals. Your mailbox may be tucked away on the wall at your front door or mounted curbside for the world to see. The level of detail that you wish to put into your mailbox mount will add to the level of curb appeal that your home has. There are many different ways to approach the installation of your Pittsburgh PA mailbox, at Pit Pro Handyman we are ready to take care of the instalaltion for you.
Mailbox post installation is a standard service that we offer our greater Pittsburgh handyman services clients. Most homeowners who call us for this service have already ordered a mailbox and post and have them waiting for us to install. There are hundreds of pole mounted options to choose from on Amazon.com and at big box stores as well as online custom sites. They range from a simple rural style mailbox mounted on top of a wood 4×4 post that is pressure treated to plastic options that slip over that 4×4 post to metal post options that are mounted in a concrete base. Please be ready to send a photo of the mail box that you ahve purchased or have a good descripiton of it so that we can discuss it when you call.
Wall mounted mailboxes that are screwed or otherwise attached to your entry wall or other wall location are common in urban areas where a mail man or post woman will walk a mail delivery route. Mailbox wall installations typically involve using a specialized anchor and screw that is drilled and set into a hole in the wall. The anchor is set in and the mailbox put over top of that, the screws are inserted into the anchor opening and tightened. The anchor expands and presses into the wall material as the screw is tightened. This provides for a stable installation of a mailbox onto the surface of the wall.
Mailbox repairs are typically needed when maintenance does not occur or when vandalism does occur. The lack of maintenance along with the weather elements can loosen, rust, rot or otherwise damage a mailbox, its post or its mounting apparatus. Be sure to take photos of the damaged or weakened mailbox so that you can send them to us and we can examine them prior to arriving at your residence. Being able to see this damge ahead of our repair appointment will allow us to make an educated materials list of items we may need during the mailbox repair of your Pittsburgh area mailbox.
Mailbox Painting is a service that we provide here at Pit Pro Handyman. It is best to paint and restore your mailbox every five years to keep it in best performing shape. Mailboxes that become a hazard to the letter carrier are not served by the postal system. If your mail delivery stops be sure to examine your mailbox and its surroungings and return them to performance condition prior to becoming angry with others. You may need to notify your post office that you have restored your mail box and the delivery area to serviceable condition if your mail delivery service is put on hold due to hazardous conditions.
Mailbox address numbering is another service that we provide at Pit Pro Handyman. This can best be achieved if the client provides the numbers as clients can be particular about font and the time that would be required to provide that exact font and size can become a huge expense. When homeowners provide thier own address numbers to be installed the job can become more cost effective and quicker. It is important to maintain house numbering for postal deliveries as well as fire and rescue service needs.
For more information about mailbox installation and repairs please contact Justin of Pit Pro Handyman at 724-544-8544