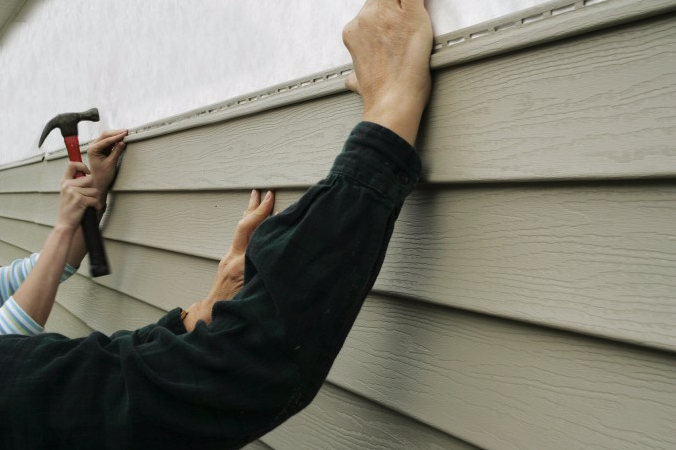 Pit Pro Handyman 724-544-8544
At Pit Pro Handyman we install vinyl siding to give your home or building new protection against the elements and a fresh new look.
The harsh weather in the greater Pittsburgh PA area can do a lot of damage to the siding on a home or commercial building. The freeze thaw cycle causes siding to expand and contract. With the moisture from rain and snow added to that freeze thaw the siding will eventually begin to show wear and tear. Lap board siding, wood siding, aluminum siding, wood shake siding all wear differently and can become a victim of no maintenance rather quickly in the harsh Western Pennsylvania climate.
As a property owner you will eventually need to make the decision to repair or replace. This can be a big decision and the condition of the siding will be your first indicator yet you must also consider the value that new vinyl siding will add to the real estate. Your curb appeal will immediately be increased drastically which increases the desirability of your property and its real estate value.
Even though you are probably not planning on selling your home you have landed on our Pitt Pro Handyman siding replacement page and are here to learn so that you may make a well informed decision. Vinyl siding helps increase a home's value by adding a fresh appearance, durability, low maintenance and energy efficiency. Although vinyl siding doesn't rot or wear in the same way as wood it is not damage proof or no maintenance.
Vinyl siding can crack or puncture when landscape maintenance crews get too close to it with their tools. You can keep your siding in good shape by trimming shrubbery and trees away from the house so they don't mar the material. If a section does become badly damaged, our Pit Pro Handyman service can replace it. Send us a photo of the damaged area to our email on the contact page so that we can provide a quote. The position of the damage on the house will determine how much work is involved for our Pittsburgh handyman to replace it and the cost.
To keep your vinyl siding looking good, contact Pit Pro Handyman to clean it once a year or so. We will use a hose, a sponge, a stiff-bristle brush, a bucket, and a mild detergent such as laundry soap or a TSP substitute. After scrubbing the surface, our handyman will rinse it with clear water. We may use a long-handled car-wash brush to easily extend your reach, or use a high-pressure hose if you have grime built up from air pollution and exhaust. Our Pittsburgh handyman will be sure to cover nearby plants with plastic tarps.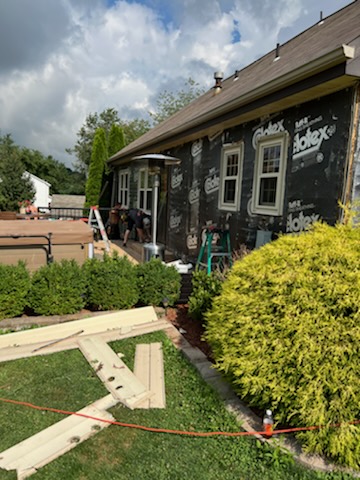 Vinyl color is not a surface coating but permeates the material, so the color won't wear away. If you don't like the color of your vinyl siding, our professional handyman can paint it for you. We will apply two coats of 100% acrylic latex paint for a sound finish. Please keep in mind that if you do paint your siding, you will need to repaint it periodically, the same way that board siding has to be painted as it peels and chips. Don't worry, your Pit Pro Handyman is only a phone call or email away and ready to solve your home maintenance and repair issues.
Is the siding on your home or office looking like it could use a facelift? If it is, a thorough cleaning may bring it back to life. Even when siding looks like it desperately needs a new coat of paint, it may really only need a good washing.
You won't be able to tell for sure if your siding needs painting until you wash it which is an important first step if you need to paint. The challenge will be to do this as effectively and easily as possible, without damaging the siding.
The best way to clean siding will depend on the particular type of siding and the situation specifics such as your available time, tools, energy, and whether your house is one story or taller.
For those that do not have the ability or time to wash, maintain, or replace their own siding we can do the work for you. At Pitt Pro Handyman we are experienced in siding maintenance and replacement.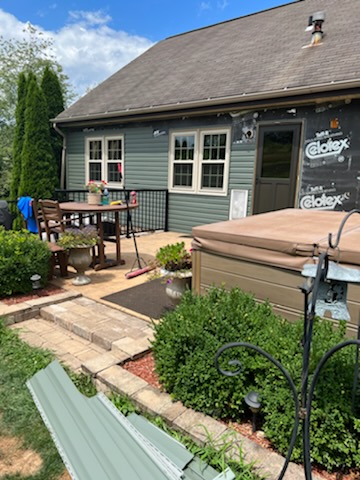 Maybe you have already determined that it is time to invest in new siding and are exploring the options. In the Pittsburgh Pennsylvania and Western Pa area the majority of siding replacements tend to be selecting vinyl siding due to its durability and flexibility. It will flex with the change in temperature and not crack or split. As water does not enter into the siding there is less damage from temperature extremes.
For other siding options you may be considering cladding in stone, siding with Hardie board or stucco or brick or fiber shake siding. No matter what you select for your new siding our professional handymen at Pitt Pro Handyman are able to efficiently and cleanly install your new siding and exceed your expectations.