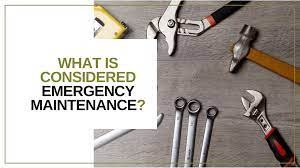 Pit Pro Handyman 724-544-8544
What is an emergency home maintenance repair? Thats a good question, well, an emergency is something that requires immediate attention. In the homeowner's point of view any need can be seen as an emergency yet the reality of the term Emergency is that if it needs immediate attention to prevent further damage or risk of injury.
A pipe that has a drip might seem like an emergency yet a bucket ban be used to capture that drip water and a technician repair the pipe during the next business day.
A pipe that is spewing water and causing flood issues and cannot be captured with a bucket is an emergency. In some instances the water will be turned off at the curb or source and then the repair completed during business hours. This may be best as if it is near electrical wiring there is a risk of electrocuiton if there is standing water and wet wood. Fans may be set up to quicken the drying process yet a human cannot enter the space untit is is safe. Even after it is dry the electricity may be turned off at the source in the interest of safety.
Anotehr emergency would be a broken window that opens a home up to robbery or other further damage, this needs immediate attention to shore up the damage so that an official repair can be made during normal business hours or daylight hours.
At Pit Pro Handyman we do handle emergency calls for our clients and emergency calls do come with an additional one hundred dollar ($100.00) emergency service fee. This is in addition to our standard county service fee that can be found on our service area page. This is a fee that is charged to cover the costs of transportation to and from your location as well as to make sure we are dedicating our time to those that are serious about having their home repairs perfomed in a professional and efficient manner. Unfortunately there are many "look – y – loo's" who will consume greate amounts of time without having any true intention of having a home repair or update complelted.
As you can see the service call fee for each service area is modest and only covers the expense of the travel to and from. The estimate is free, we just ask that you pay for the expense of our handyman traveling to and from your residence.
For more information about emergency residential handyman services please contact Justin of Pit Pro Handyman at 724-544-8544