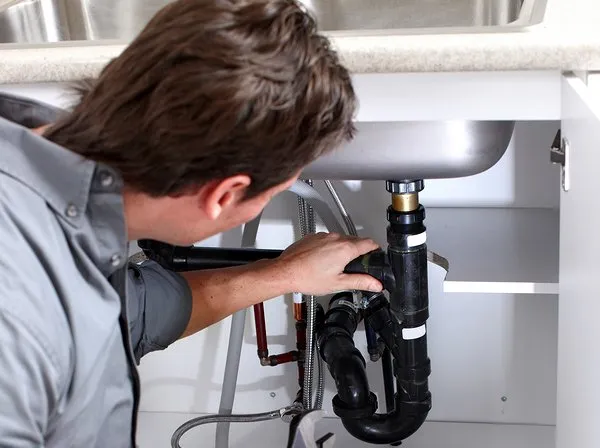 Pit Pro Handyman 724-544-8544
Pittsburgh PA Plumbing Handyman Services include plumbing needs in various shapes and sizes. Some of these areas of work are listed and described below yet there are so many different plumbing needs do not be flustered if your need is not listed, just give us a call and ask.
Pittsburgh PA clients call most often for an issue of a pipe or toilet stopped up. This is a very common plumbing need and can be simple or quite complex to repair. As many of our houses and businesses are in older historic buildings they may have cast iron plumbing pipes. The ugly truth is cast iron pipes rust away and eventually must be replaced. Once a hole appears portions of the flush or drain water will begin to exit that hole, the hole will get bigger, the water will wash out soil and problems may start to become evident. There may be odors, cave in of soil, root intrusion or other issues that can cause the back-up. If your back up is periodic this may be due to toilet tissue or moist wipes that get caught on rough areas of pipe or the jagged edges of the pipe or those intruding roots. It eventually may work its way free or disintegrate yet while it is stuck it causes a back-up and overflow. This can be temporarily corrected if it is a root intrusion issue by using a tool to snake in and grind the roots away. This will be temporary as the roots will grow back and the issue will return. The pipe must be replaced or repaired to correctly fix the issue. Rarely is a single section of cast iron pipe replaced, it is most often a new re-plumb using PVC pipe of the main drain line. This is the proper repair.
Similarly clay drain pipe was used in some homes in the mid-19th century; this is a clay drain pipe that can be damaged and collapse and causes the same or similar issues to the decaying cast iron drain pope. If a clay pipe section can be located (it is no longer readily available) a single section can be replaced yet the standard in the industry is to replace the entire drain pipe with the PVC drain pipe that is industry standard in modern times.
Pittsburgh PA leak repairs are a service that we provide at Pit Pro Handyman. A leak can be due to a washer wearing out, calcification build up or other issues that cause a break in the water tight seal. Older plumbing systems used cartridges that were less standard than modern cartridges so it may be difficult to match the cartridge on plumbing fixtures and faucets that are 50 years old or older. Most times they can be located at a local ACE Hardware which carries these items in a larger selection than big box stores. Big box stores will carry most modern cartridges yet if it is in the 50 years old or older they do not stock these items. Amazon may also be a resource for older cartridges and there are also local plumbing warehouses that are open to the trades professions that we can try to source the part at.
many instances the homeowner is ready for a new faucet or fixture and is not looking for a historically correct match yet a nice modern fixture that will cause less repair issues over the years. These fixtures are readily available in most Big Box Stores as well as the local plumbing warehouses. These are also available on Amazon where homeowners can read reviews and learn from others experiences. We are able to change out those old fixtures with brand new fixtures that you provide or we can source. Remember, we do charge you when we need to source the item as we are dedicating that time to your project. For some this is not an issue as they may be home bound or otherwise occupied, for others they want to select the style and fixture so they will take a photo of their existing fixture arrangement, above and below the sink, and take those photos to the big Box store of their choice and have the plumbing specialist assist them in selecting the fixture with the right amount of holes and the fill and drain lines to go with that fixture.
Pit Pro Handyman services includes Pittsburgh PA sink installations. We install bath room sinks, kitchen sinks, hand sinks, garage sinks, laundry sinks, garden sinks and more. If you need or have a sink we can install it. In some instances a client may be upgrading to a bowl type sink that sits on top of a sold counter instead of placing into a hole that is cut into the counter top. This may require an entirely new counter top and our cabinet. That may be what some are intending yet if you purchase a sink and do not consider the current configuration that you have you may need to do other updates. This is also a rule for modern kitchen sinks as many are under counter sinks that are affixed below a granite or marble or other counter top so that counter top water easily wipes into or drains into the sink that is suspended below. We are able to install all of these sinks and we can also facilitate the ordering of stone counter tops for jobs requiring such. No matter what the need is we can help in resolving your needs.
In the instances of the sinks described above we may be operating as a prime consultant who performs part of the work and subs part of the work out to specialists who deal solely in stone counter tops. We can act as that person who organizes and communicates or our clients may desire to play that part themselves.
One common service that we provide is installing water closets or toilets. We are a Pittsburgh PA toilet installation handyman service and offer installation of toilets as part of our handyman services in the greater Pittsburgh area. With toilet installation you can obtain the toilet yourself from a big box store or we can get one from plumbing supply or big box store for you. In most cases we prefer that our clients select the model that they desire and you can confirm by providing images of your existing toi8let and dimensions from the wall of that installation so that confirmation that it will fit your configuration prior to picking it up from the Big Box store of having it delivered occurs. Of course we can do all of this for you and it will just fall under our hourly services rage for plumbing needs.
Tired of shower curtains and wanting a glass shower door installed yet don't know how to achieve that? At Pit Pro Handyman we are your Pittsburgh PA shower door installation handyman service. As with many of the other services provided and discussed on this page we can select the shower door for you or you can select order and have it available for us to install. When you do the ordering you know that you will get the style and design that you want and fits your design style. If we order it the focus will be on the size and installation needs and we cannot be responsible for selecting the wrong style. The style we pick will be the most streamlined and simple style that is offered and available on that day. If you are into highly ornate items you will not like the style that we select as it will be too simple, clean and modern.
At Pit Pro Handyman we are your Pittsburgh PA garbage disposal installation handyman. These disposals can be quite simple and quick or consume much time and additional parts. This depends upon if we are replacing an existing or if this will be the first time that a garbage disposal has been installed on that particular sink. If this is a replacement disposal the electricity and connections will already be in place and we will simple remove and replace the existing. If this is a first time garbage disposal installation we will need to find a power source, install a junction box, install a switch and then adjust the drain piping and then get the installation complete and operational. There is a significant amount of difference in time and material required for a replacement or a new install.
Many people are becoming more and more concerned with their drinking water that their municipality is providing to them. The news seems to have a new story of a new town with dirty water popping up each week or month. Amazon has an abundance of effective water filters available that install below the sink and have a hole that is drilled through the counter top or sink edge and mounts sink side. This provides a filtered water source at your sink side that will remove those pollutants that the news is talking about and provide you with fresh and tasty water for drinking. This new added spout is used only for drinking water and the filter cartridge that is located below sink is replaced at time intervals as recommended by the manufacturer. In some cases these filters do require a power source that can use the power source that is powering your dishwasher or garbage disposal or if you do not have those a new source can be brought to the locations. This installation can be simple or complex depending on the unit that you purchase and the configuration of your current under sink utilities and space as well as your counter thickness and material. Do not worry, Your Pitt Pro Handyman can handle all aspects of this installation and get your pure water flowing for you. This might be the most important purchase that you make in the coming years so getting it installed quickly and correctly is an immediate need. Call Pit Pro Handyman your Pittsburgh PA water filter installation handyman at 724-544-8544
Are you thinking of adding a dishwasher to a kitchen or replacing your existing one, if so, Pit Pro Handyman is your Pittsburgh PA dishwasher installation handyman service. Replacing an existing dishwasher can be a quick process as all of the piping and power supply are already in place. We remove the old dishwasher, clean out the space and then install the new one with the existing connections. Some adjustments will need to be made that are dependent on the manufacturer of the unit that you purchase. For example, A Bosch dishwasher has to have its legs adjusted so that there is pressure between the top of the dishwasher and the counter top. This allows the units door to latch closed and operate. If there is no back pressure on the Bosch door latch the unit will not engage and operate. The Bosch is a powerful and unique dishwasher and operates in virtual silence. You can only tell that the unit is on by the light that shines down onto your kitchen floor. It is a well-insulated and efficient machine. There are other manufacturers with unique installation needs, which are described in the installation manuals; we will work to install your replacement dishwasher to manufacturer specifications.
If you are installing a dishwasher machine where one has never been before the process becomes a little more complicated. We will need to remove one of the cabinets that are near your sink, to the right of or to the left of. The standard width of a large cabinet matches the standard width of a dishwasher (24"), the height is 35" tall and the depth is 24" deep. The cabinet typically is cut out and in some cases parts of it left in place when possible to provide extra support. A power source must be provided to power the dishwasher and the water and drain lines attached. Please note that if your cabinet appears to be on the end with an exposed side dishwashers do not come with finished sides. In these rare instances we will need to have a metal fabricator create a stainless steel side / end piece to fit the side of your dishwasher and provide support and epoxy it in place.
Do you see water stains or hear a drip, drip, drip and need a repair. At Pit Pro Handyman we are your Pittsburgh PA leak detection and repair handyman service. These leaks pop up and can become quite damaging over time if not noticed immediately. In some cases if the time has been more than two weeks and the damage shows long term water damage or wood rot your insurance policy will not cover the damage. Be aware of the conditions and take action immediately upon noticing water damage or hearing a drip. In some cases this comes from plastic PVC pipes being damaged by rodents or other wildlife, failure of a glue joint or failure of a connection mechanism such as a shark bite, human accidental breakage or normal wear and tear. Old cast iron pipes or copper pipes can deteriorate and leak; freeze thaw cycle can damage pipes or many other reasons that pipes leak. A source leak (fresh water) will be the most common type as those lines are pressurized and run within the structure of your home or business building while drain pipes all connect to an underground source and are not pressurized. For leak repair please all your Pit Pro Handyman at 724-544-8544.
In rural homes it is common to be adding an outdoor shower that can be used for a swimming pool or wash shower to help keep the dirt out of the house. This shower is typically added with lines that have a valve that can be closed in the winter time and is located within the heated walls of a structure. The valve is closed in October and the outdoor water handles opened and drained to prevent winter damage. Contact Pit Pro Handyman to add a Pittsburgh Pa Outdoor Shower to your home or shop or other building. We are able to handle the plumbing installation as well as frame and build the screening structure as well as bench seating a roof or other needs.